PrescribeIT® integrates seamlessly into electronic medical records (EMR) and pharmacy management systems (PMS), enabling prescribers to digitally transmit prescriptions to pharmacies. Transmission is secure, private, and directed to the patient's pharmacy of choice.
PrescribeIT® Features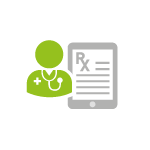 Create Rx
PrescribeIT® creates a new prescription; prescribers send the prescription to the patient's preferred pharmacy through PrescribeIT® rather than via fax or email. Deferred transmission is available.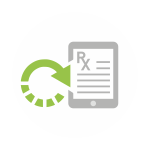 Renew Rx
Pharmacists can electronically request prescription renewals from the prescriber and, if approved, clinic staff respond with an e-renewal.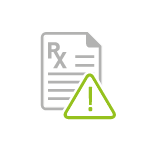 Prescription Cancel
Prescribers can cancel a prescription that has been digitally transmitted from an EMR to a pharmacy through PrescribeIT®.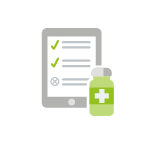 Rx Status
Prescribers can see if their prescription has been dispensed or cancelled. Pharmacists can electronically send adapted prescription or pharmacist-initiated prescription notifications to the original prescriber.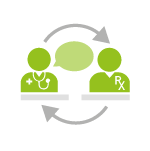 Clinical Communication
Prescribers and pharmacies can communicate through secure messaging; communication records remain available for later reference.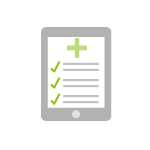 Formulary Services
Prescribers have integrated access to public drug formularies to ensure drug coverage in advance of prescribing.*

* In jurisdictions where it is available.
More PrescribeIT® Features:
Multi-factor authentication.
Support for Canadian Clinical Drug Data Set (CCDD).
Bilingual support.
Introducing PrescribeIT® 5.0
Driven by customer insights, PrescribeIT® v5.0 streamlines the prescriber authentication process and simplifies e-renewal workflows. This new version enables more efficient maintenance of local pharmacy records within EMRs and provides prescribers a straightforward means to manage scenarios where multiple medications are dispensed for a single prescription.
PrescribeIT® is currently working with EMR and PMS vendor partners to implement the latest version of PrescribeIT®.