As 2022 saw further strain on our health care system with emergency rooms being overwhelmed and nurses and doctors leaving the profession at an alarming rate, PrescribeIT® stayed the course with discussions about the benefits of virtual care and complimentary digital tools like e-prescribing.
We participated in conversations about enabling care in remote communities, the benefits of digital tools to support Indigenous communities and how, in the midst of a soaring mental health and addictions crisis, PrescribeIT® enables clinicians to communicate more easily via clinical communications.
---
A Memorable Year
From launching in 128 new communities to providing the Minister of Health, the Honourable Jean-Yves Duclos, with a demo of how PrescribeIT® works, to onboarding new pharmacy and medical clinic partners, there was a lot to celebrate. PresribeIT® is now available in seven provinces across Canada, helping prescribers and pharmacists to safely prescribe for patients. In total, there are now:
14,000+ prescribers enrolled (+66% year over year (YoY)

6,750+ pharmacies enrolled (+13% YoY)
688 communities serving, 21M+ Canadians
Launching in a New Province
Canada Health Infoway (Infoway) is committed to taking PrescribeIT® from coast to coast to coast, and has a memorandum of understanding with all of the provinces and territories across Canada. Each jurisdiction has unique requirements, and we work closely with each province and territory, as well as other stakeholders to ensure local needs are met. To date, PrescribeIT® is active in seven provinces and planning is in full swing in Quebec as we meet with the provincial government, physician and pharmacy associations, local retailers, patients and other stakeholders to ensure a smooth rollout in the near future.
Meanwhile, we are proud to announce PrescribeIT® launched its first pilot on Nov. 29 in Prince Edward Island, as part of the province's EMR program. All clinicians enrolled in the provincial EMR program will be able to send prescriptions to pharmacies across the Island in the near future.
"We are also pleased to see the PrescribeIT program now includes over 6,000 pharmacies, allowing prescriptions to be electronically sent to a pharmacy for convenient pickup and less risk."
— Statement from the Minister of Health and Minister of Mental Health and Addictions and Associate Minister of Health on Digital Health Week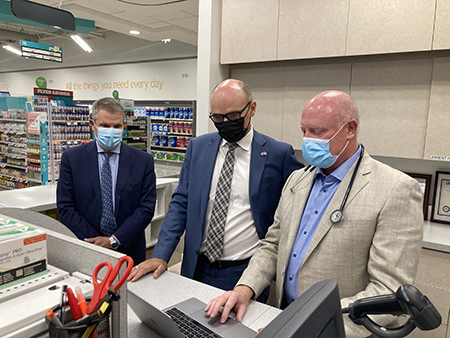 Hospital & Acute Care Expansion
Infoway is currently working with hospitals to integrate PrescribeIT® into their hospital information systems (HIS).
Infoway and the Ottawa Hospital began working in August 2022 to integrate PrescribeIT® into the hospital's HIS, with a view of launching in 2023. Additionally, Infoway is working on a second pilot project with another large HIS. Stay tuned for more information in the new year.
Expanding Our Partnerships
This year PrescribeIT® announced partnerships with Walmart Canada, ELNA Medical and Gotodoctor.ca
On Sept. 20, Infoway and Walmart Canada announced PrescribeIT® would be available in Walmart Canada pharmacies in Ontario, Alberta, Saskatchewan and New Brunswick. Since the announcement, PrescribeIT® has launched in more than 220 sites in these provinces.
In May, ELNA Medical announced it became the first major clinic network in Canada to roll out PrescribeIT®. And in September, Gotodoctor.ca announced rolling out PrescribeIT® to 11 clinic locations and one senior living facility servicing approximately 200,000 patient visits a year.
17 EMR Vendors

9 PMS vendors, representing 85% of the retail pharmacy market
90% of community pharmacy stores in Canada represented by Infoway agreements
Improvements to the Service
"This is an important step to allow for safer stewardship of opioids."

— Dr. Peter Selby, Centre for Addiction and Mental Health & University of Toronto
In direct response to customer feedback, PrescribeIT® 5.0 was launched, offering a number of improvements to e-renewal responses, dispense notifications for multiple medications, and a streamlined log-in feature. Microquest, headquartered in Alberta, was the first vendor to integrate V5.0 in its Healthquest EMR. Close to 1,200 prescribers in the province can now benefit from the new features.
Community Showcase
In Summer 2022, Infoway launched a Community Showcase campaign to demonstrate how the service works and to underscore the value of PrescribeIT® to clinicians, patients and the health system. Federal and local Members of Parliament (MPs) and Ministers made visits to five community pharmacies where both pharmacists and prescribers demonstrated the usefulness of the service.
In another great moment for the year, the October 2022 issue of Pharmacy Practice + Business highlighted e-prescribing, and PrescribeIT® specifically, as being the No. 1 in a top 10 list of innovations in pharmacy!
Welcoming a New Peer
"It allows us to process the prescription in a much faster way."

— Tarek Hussein, Pharmacist & Co-Founder, Weller Pharmacy
Our Ask a Peer program connects doctors, nurse practitioners and pharmacists with their peers to answer any questions they have about switching to e-prescribing. This year we welcomed a new peer, Tarek Hussein, a pharmacist and the co-founder of Weller Pharmacy in Kingston, ON. By joining Ask a Peer, Tarek hopes to drive technological change and encourage independent pharmacies to consider enabling PrescribeIT® in their practices.
The peers have already answered more than 50+ questions. Have a question for Tarek? Visit Ask a Peer.
Looking Ahead
We look forward to another great year in 2023 in which we continue to work with jurisdictions, pharmacists, physicians, nurse practitioners, patients and other stakeholders to make prescribing safer for all Canadians.